We love reading in our house, but sometimes the day-to-day busyness pushes this activity farther down on our priority list. I'm not worried so much about the "Summer Slide" as we're continuing to learn throughout the summer, but sometimes reading can take a backseat.  Here are eight ideas to inspire summer reading for your family.
1. Join your local library's summer reading program
Our local library system sponsors a summer reading program every year. Before the kickoff off of the program, we pick up tracking sheets for each kid (the preschool version includes reading-related activities for those youngsters who haven't picked up the skill, yet.) And sometimes there are even tracking sheets for adults.  What makes the program fun (other than coloring the sheet in) is that the library will offer an incentive to partially complete or finish the program. This is a great motivational tool for the kids. 
2. Dive into the PBS KIDS Read Book List
I've seen recommended book lists for different ages over the last several years but this summer, PBS KIDS put together a book list of their own to help promote their upcoming TV series: "The Great American Read." The list is divided into Read-Aloud, Read-Along and Read-On-Your-Own Books with recommended age ranges for each. Download your copy here: The PBS KIDS Read list.
3. PBS KIDS Reading Games
If your kids love games like my kids do, you'll definitely want to check out this collection of reading games on PBSKIDS.org. Playing a game with a favorite PBS KIDS character that's fun and strengthening reading skills at the same time is a winning combination.
Bonus fun find: I stumbled upon this fun little "Book Bingo" card.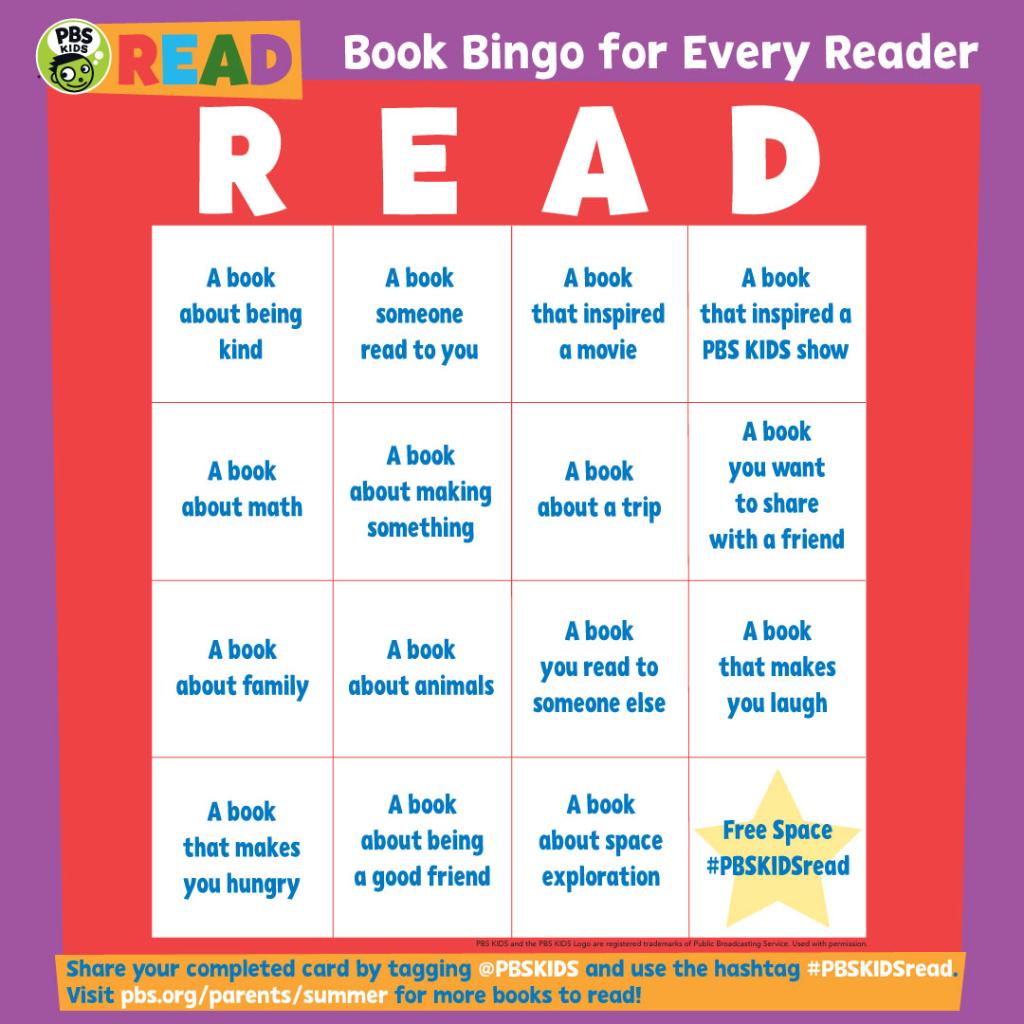 and tips from PBS Parents
PBS Parents has been advocating their Raising Readers program for as long as I can remember. Their website is a great resource for educators and parents alike. Here are some of their top tips:
4. Integrate reading adventures into your daily routine.
5. Explore your local library.
6. Bring learning tools with you on the road.
7. Find educational activities you and your child can do together indoors and outdoors.
8. Look for books and programs that feature your child's favorite characters.
I hope these tips help to inspire your family to keep on reading this summer.